This shop has been compensated by Collective Bias, Inc. and its advertiser. All opinions are mine alone.
#nothinglikeahug #CollectiveBias
Recently we just returned from an amazing vacation. It was the longest we have been away from home and so worth all of the traveling. We started our travels by heading to Mexico for a family vacation with my side of the family. Unfortunately, our travel agent booked us on connecting flights so it was a long day of travel with two littles. We made it though in one piece and had the time of our lives! From there we hopped on a plane to California. We had another layover on our way but made it safe and sound to our family in California. We spent Thanksgiving with my husband's side of the family and enjoyed our second dose of beautiful weather!
I'm what you call a planner and I have lists and growing piles when I'm preparing for a trip. I pack for myself as well as my two girls. It takes me a few days to digest it all and make sure I have everything packed and ready. It starts with shopping lists which turn into packing lists which turn into checklists. I'm also one of those that get a lot of satisfaction from checking something off my to do list. Although the process of packing can be stressful I have a lot of fun dwindling that list down to nothing!
Since we were going to be gone on a long vacation I went to my go to place for buying in bulk. Sams Club has great prices for the amount of product you get! More bang for your buck! I also love their Scan and Go Service which helps you get in and out in no time. You download their Scan & Go app and as you put the items in your cart you scan the item and then pay for your items on your phone when you are finished. As you are leaving the club show the person at the door your receipt and off you go! It's so convenient and so quick!
Hover over the image below where you can click and purchase your own items!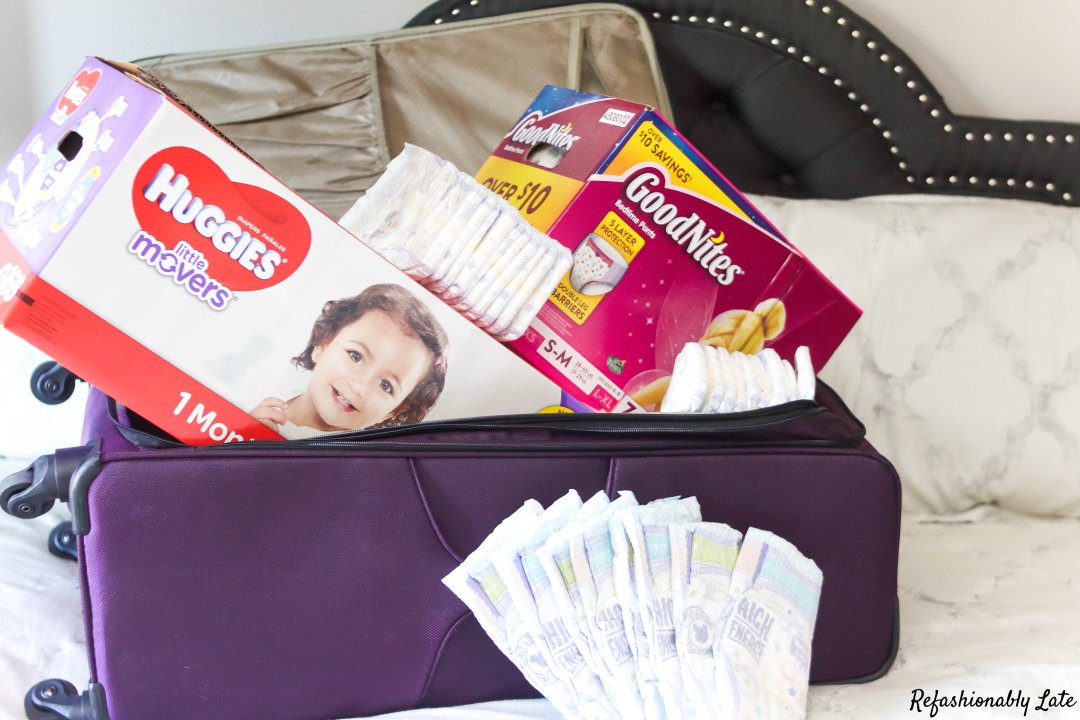 Right now Sams Club is having some amazing deals on diapers, which you will need a lot of when traveling for the Holiday season. From 12/1 – 12/25 you can buy any one Huggies product at Sams Club and get $4 in instant savings! You can get an additional $4 back through Ibotta when you buy Huggies as well! The best part is Sams Club has amazing prices to start so with the discounts during this limited time it's an even more amazing price! I can't wait to go take advantage of this deal! You can find both of these deals in the baby section at your local Sams Club.
Now that you have your diapers I wanted to share with you a few must-haves when traveling with kiddos in diapers! Even though our girls are young, they are not strangers to an airplane and travel. Through our frequent flying, I have learned a trick or two on traveling successfully. Our youngest just turned one so she's still in diapers. We love the Huggies® Little Movers as she just learned to walk and is on the move! Our oldest is potty trained but we use night time diapers like GoodNites® to manage nighttime accidents. A diaper is on your child for long periods of time and you want your children to be comfortable. Huggies is designed to give your little one a comfy fit from newborn to potty training. Comfort is key when traveling.
5 Must-Have Items:
Small Pouch w/ Diapers
Disposable Changing Pads
Wipes Pouch or Small Container of Wipes
Disposable Diaper Bags
Extra Outfit
It's a great idea to have a small travel bag where you can store a couple diapers. If you need to make a quick stop to the bathroom at the airport you don't want to always lug around your entire diaper bag. Our diaper bag comes with a changing pad but I hate to use that in public restrooms. I always stuff one or two disposable changing pads into the travel bag so I can use it and then throw it away! It's also great to have disposable diaper trash bags so if your babe has a stinky one you can toss it in there and tie it up and throw it away. Why not spare yourself and others the stink! Remember planes are small quarters! It's important to pack an extra outfit because you never know if your child will spit up all over it or spill milk on it!
Don't feel discouraged to travel with your little ones. We love to travel and it has made our little girls enjoy traveling as well! It's just important to keep them as comfortable as possible. You know the saying happy wife, happy life?! Well that can be true for your kids too! Happy kids, happy parents. Unfortunately, it doesn't have the ring that the other has but you get the point! Thanks for stopping by today. Are you planning to travel for the Holidays? Where will you be going? What is your go to item for your kiddos when traveling?